Here's What Happened When A 26-Year-Old Decided To Get Lost During Her Solo Trip In Sikkim
City life monotony comes in all shapes and sizes. For me, it came in the form of mustering up all the courage I had, to go on a solo trip to Sikkim. So, there I was with my tickets, a small bag, a couple of books and a heart full on anxiousness, at the Delhi airport waiting for my flight to Bagdogra.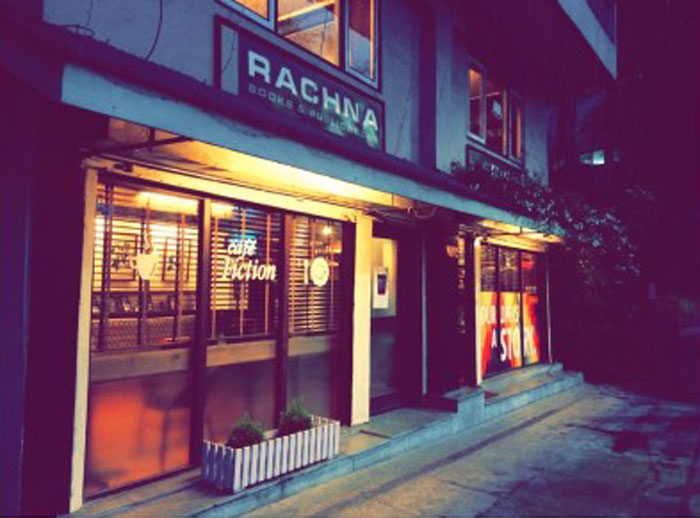 I had done my fair bit of research and everything seemed to be in place. The taxi was to pick me up from the airport at 12 pm, I would be in Gangtok by 3 pm, check into the AirBnB guest house and be all ready to explore the town that evening. All on my own. But, impulsiveness comes with its own set of downfalls. It was monsoon time. It was June and not the best time to visit Sikkim. It was raining. My flight got delayed. We had to make stop at Kolkata. Dealing with a worrying mother and incessant phone calls from the cabbie, I reached Bagdogra Airport by 5 pm, I got to the guest-house only by night time. Anyway, that didn't dampen my spirit.
I was staying at this beautiful AirBnb called Bookman's Bed and Breakfast
—
a five-minute walk away from the market. Built over a cozy book shop and cafe called Rachna bookstore, it was just the perfect thing for me.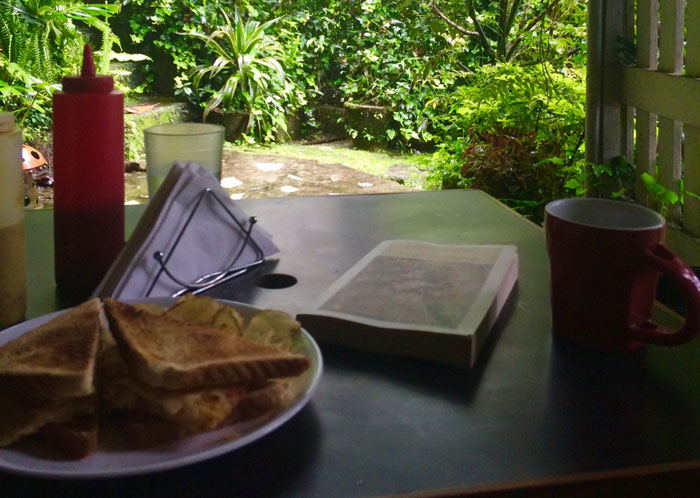 So what does a 26 year old in the middle of Gangtok do on the first day of her first ever solo-trip? She dumps her bags, gets refreshed and heads out.
After such a long day, all I wanted was a tall glass of chilled beer. I set eyes on this small pub called Downtown. I climbed up the dingy staircase and entered. There were at least 15 pairs of male eyes that froze on me, and I experienced a few seconds of awkwardness. Brushing that aside, I walked further inside, and took seat in the smallish balcony overlooking the market. I ordered for some local beer, Dansberg, and mutton momos. This was finally happening! I was all by myself in a beautiful town, looking at the glistening cobbled stone market road below and the chatty shadows of people walking under the street lights. Later, I moved on to a stronger version of the Sikkimese beer called HIT. A couple of boys sitting next to me were playing soft guitar. Had it been any other day, time, and place, I would've ignored them. But here in Gangtok, to the contrary, I joined them. We jammed, sang, had some great conversations. I found friends in strangers.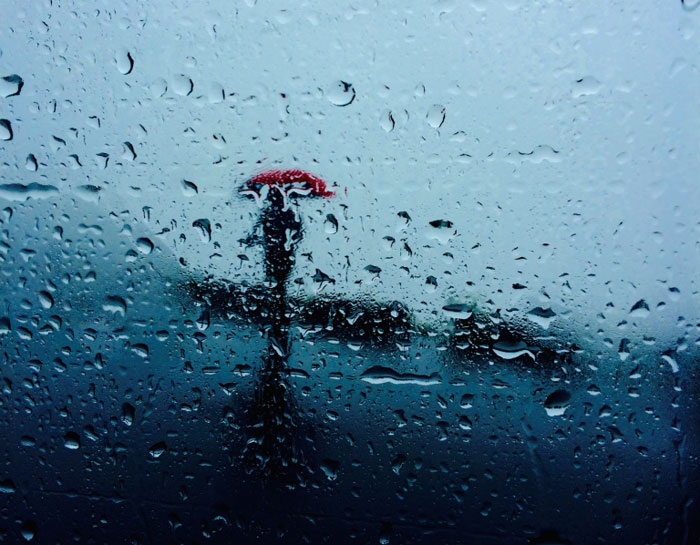 Walking back to the BnB I got lost. It was late. It was raining. It was dark. And voila! My phone had conked off. Now what? I walked to the Police Station to get some help. The officers inside were appalled to see a girl from Delhi, all by herself, that too on a solo trip. I told them I got lost, so I showed them the key to my room which had the name of the guest house written. It said Rainbasera. They made a few calls, figured out where I had to go and sent along a hawaldar to walk me back. Surprising as it may sound, the hawaldar and I had quite a fun walk. And in that moment, I realised how warm and welcoming the people of Sikkim were and how safe the city of Gangtok was.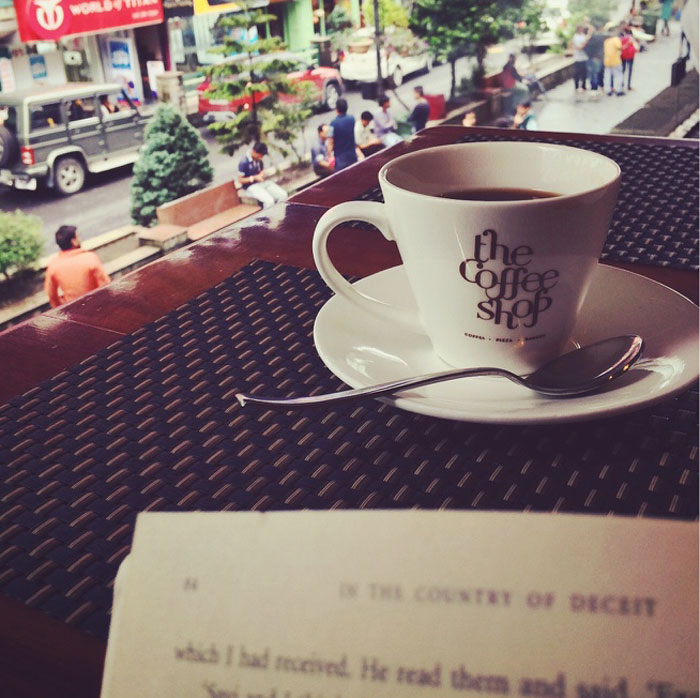 The next day, I awoke to the awesome sound of raindrops falling on the roof. I jumped out of bed, brushed my teeth and headed down to Cafe Fiction in my PJs. I found a cozy spot for myself, ordered a coffee and club sandwich and just read through the first half of the day.
Later, I set out to explore the capital city in daylight. Sadly, there wasn't any daylight. Walking around the narrow lanes with an umbrella over me I couldn't realise how breathtaking Gangtok looked in the monsoons.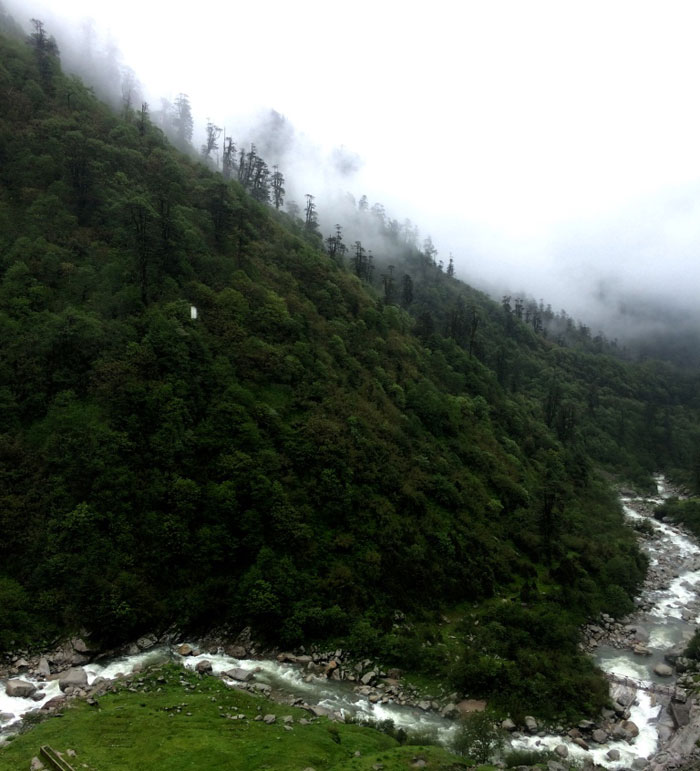 The cloud cover was thick that day and the rain just didn't seem to stop. And I just took the city in, had endless cups of Americano, watched people get about there daily lives from atop The Coffee Shop.
Not for a second did I miss company of any sort or the urge to talk. Being on my own just made me happy. And I realised, silence had a voice too. A reassuring voice with a tendency to calm you down.
Sleep comes voluntarily to me. Even after so much of coffee, I went back to my room for a short nap. In the evening, I headed back to DownTown. And this time, the place pleasantly surprised me with karaoke! My night was made. Dheeraj, the owner of the pub, let me take the stage for a good two hours. And I sang. Sang my heart out. Sang like there was no tomorrow. Song after song. Sometimes a duet, mostly solo, while it continued to pour outside.
I had planned that the next day I was going to Nathula Pass while making a pitstop at the Tsomogo Lake. With a rickety old Wagon-R as a cab, and a very chatty man as a cabbie, I set out early morning. I kind of started to get irritated with the rain at that point, because it just wouldn't stop. And the road up to Nathula wasn't the safest. The BnB owner, Raman, warned me about some landslides up there. But, I continued to surprise myself with my swift decisions.
A few hours later, I found myself standing by the lake and the freezing winds gushing through my body. With not a soul in sight, this had been the second most peaceful experience of my journey so far.
We stopped at a small cafe from where the Himalayan range was big and bold. Slurping on my bowl of soupy Maggie, me and my furry friends and sat there, watching the endless cover of green.
I made up a story in my head of a woodsman who lived in the forest and came down to the river to catch some fish. And as I told myself a story, the rain started to slow down. The clouds started to part away. And there she was. The mighty Kailash Mansarovar Parbat. And needles to say, this was the most peaceful view of my trip.
As I had just started to familiarise myself with the town, the next day went by in a flash. I treated the cabbie to lunch in the cafe under the guest house. He told me about his family. I told him about mine.
I ate some, I drank some. I read some, I wrote some. And just like that, I was on the plane back to Delhi. Looking back, I had the most extra-ordinary time. With just myself. And at the same time, it saddened me at how everyone judges the people from the North-East. It is an absolute wonder in itself. The people are amazing. The food is absolutely delicious. And as you must have seen, the views of Sikkim are beyond gorgeous.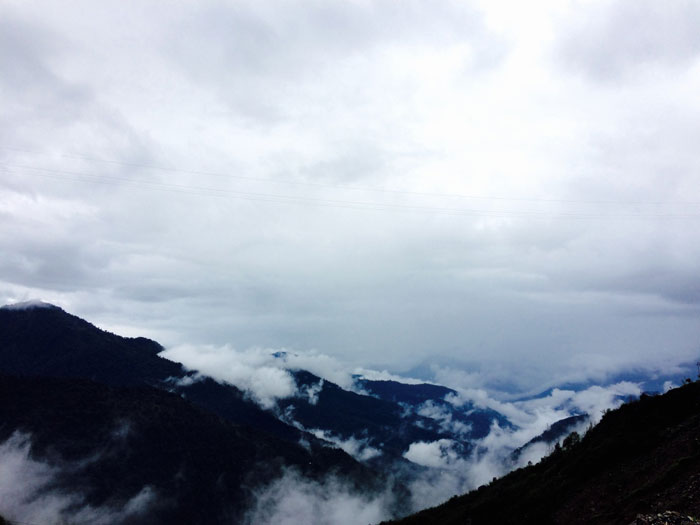 Coming back to taking a solo trip. It was as easy as going to the closest supermarket for a packet of crips. So, all of you trying to strike the 'solo-trip' off your bucket list, just pick a place, book your tickets, get up and go. You will be happy to know how great company you are to yourself.
By Sharma T, India Times