May 14 municipal polls coming Sunday : BJP eyeing position of primary Opposition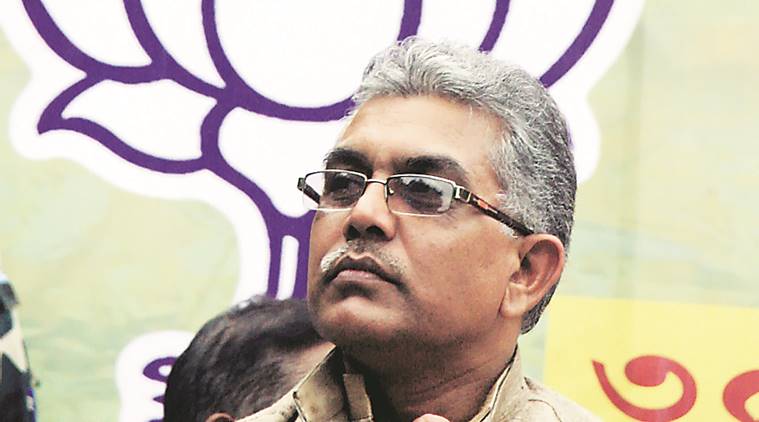 State BJP president Dilip Ghosh
The turbulent political scenario in the state has given the upcoming elections in seven municipalities, scheduled for May 14, an air of unpredictability. For BJP, it is a golden opportunity to register a hattrick of second positions in recent elections within Bengal (Cooch Behar Lok Sabha bypoll in November 2016 and Kanthi Dakshin Assembly bypoll last month) and emerge as the primary opposition party. For its main rival, the ruling TMC, it will be a challenge to continue its winning streak with the CBI investigation into the Narada sting case, in which several of its MPs were booked.
"An atmosphere of terror has been created by TMC in poll-bound municipality areas. We do not know whether elections will be free and fair. We hope we will be able to repeat our recent performance, but everything depends on how polls are conducted on May 14," BJP national secretary Rahul Sinha told The Indian Express.
Elections in Darjeeling, Kurseong, Mirik, Kalimpong, Raiganj, Domkol and Pujali municipalities — which are spread across five districts — will be held this Sunday. Of these seven, BJP is contesting in only three municipalities — Raiganj, Domkol and Pujali.
Its alliance partner Gorkha Janmukti Morcha, will be contesting in the remaining four hill municipalities — Darjeeling, Kurseong, Mirik and Kalimpong.
BJP has fielded 10 Muslim candidates in Domkol and Pujali, which have a large number of Muslim voters. "Ninety-six per cent voters of the Domkol municipality area are Muslims. In the 21-seat municipality, we have fielded candidates in 20 seats. Seven of 20 are Muslim candidates. Similarly, in Pujali, we have fielded our candidates in all 16 seats. Three of the 16 candidates are Muslims. Recently, our party received huge support from the minority community and many were eager to contest the election, braving the ruling party-sponsored atrocities," Ali Hossain, president of the BJP's state minority cell, told The Indian Express.
According to Hossain, BJP was in a good position in Domkol. "TMC workers are threatening our candidates and trying to intimidate them to withdraw their nominations. So far, none of our candidates have done so. The support we have received from minority candidates is a positive sign," he added.
First-time BJP candidate in Domkol municipality 22-year-old Rima Khatun Bibi said she was not scared of the TMC. "I always supported BJP but never got a chance to contest elections. When I heard that BJP wanted to pitch Muslim candidates, I readily agreed. So far, I have not faced any difficulties," said Rima.
State BJP President Dilip Ghosh has been campaigning in Raiganj municipality and has accused TMC of threatening voters. "We will fight till the end. We will have to ensure that people come out of their houses and exercise their franchise. If free and fair elections are held, BJP has good prospects here," he said.
With this election being considered an acid test for both the Left Front and Congress to remain relevant in Bengal politics after successive electoral defeats, BJP is enjoying an upper hand in the absence of a strong Opposition. "BJP has a great chance to emerge second and claim the position of the main Opposition in Bengal. A hattrick of second positions would help BJP shed its tag of fringe player and become a major political force in Bengal's politics," said senior BJP leader.
Written by SANTANU CHOWDHURY
Indian Express