Justice Karnan might have crossed Indian border to Nepal or Bangladesh early today says aide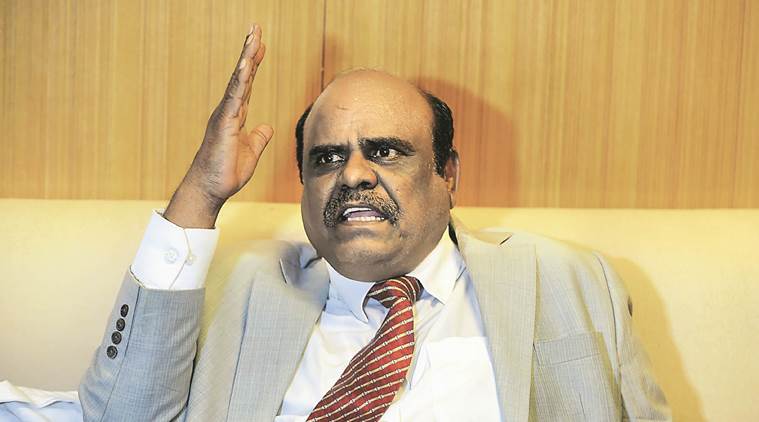 Calcutta High Court Justice C S Karnan
As a five-member team of Kolkata Police is in search of Calcutta High Court judge C S Karnan, W Peter Ramesh Kumar, Justice Karnan's close aide and his legal adviser, claimed that Justice Karnan is evading arrest and may have left the country to return only if the President of India gives him an appointment. Karnan was sentenced to six-month imprisonment for contempt of court by the Supreme Court on Tuesday.
Although media and Chennai Police were told that Justice Karnan had left the Chepauk government guest house on Wednesday morning to visit Kalahasti (a temple town that lies approximately 130 km north of Chennai, in Chittoor district of Andhra Pradesh), only his cellphone had travelled to Kalahasti while he took a direction towards north, Kumar said.
While Kumar claimed that Justice Karnan might have crossed Indian borders to "Nepal or Bangladesh", he refused to elaborate on the route and details, especially as a road route from Chennai to any Indian border will take over a day.
On Wednesday evening, a five-member Kolkata Police team, that arrived from Kolkata, travelled from Chennai to Kalahasti in search of Justice Karnan's whereabouts and reportedly came back as the Andhra Police was also unable to help them track the convict judge anywhere in the state borders.
Kumar said Karnan might have crossed the Indian border early morning on Thursday. "He took a road route," he said. Kumar said Justice Karnan will return only if the President of India Pranab Mukherjee, who appointed him as the HC judge, gives him an appointment.
"Justice Karnan will not surrender until he get justice. Only the operative part of SC order is available now. Unless he gets an elaborate copy of the SC order, he will not be able to analyse the judgment. It was the President who appointed him and there are protocols for both of them to meet as an employer and employee. Moreover, his petition against 20 senior SC judges and their corruption charges is still lying before the President and Prime Minister Narendra Modi. When he was sentenced to prison, what happened to that petition and charges he raised against SC judges? His petition is not yet rejected too. Justice Karnan will file a review petition in SC after he get a clear picture. He demands the union government to file an appeal for him as he was sentenced by SC without a trial," said Kumar, who was also sentenced to six months simple imprisonment, disqualification from his lawyer job and a fine of Rs 2,000 for barging into a court chamber and disrupting court proceedings by the Madras High Court in February 2016.
By
Arun Janardhanan
Indian Express