For growth in West Bengal, BJP turns to Muslim nominees in Muslim dominated areas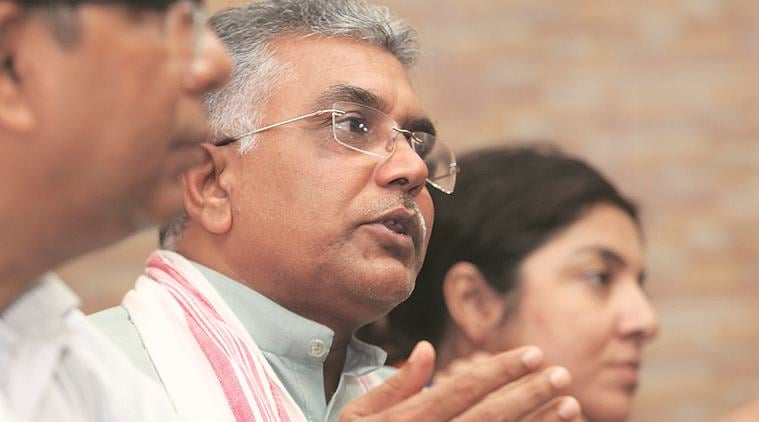 West Bengal BJP president Dilip Ghosh said, "If the election is free and fair, the BJP prospects are good here." (Source: File Photo)
The BJP is looking at Sunday's municipal elections as yet another opportunity for growth in West Bengal, where it has consistently taken second position in recent elections. Most recently, it pushed the Left Front to third in bypolls to both the Cooch Behar Lok Sabha seat in November 2016 and the Kanthi Dakshin assembly seat last month. "We hope to repeat our recent performance in the municipality elections," says BJP national secretary Rahul Sinha.
The BJP is contesting only the plains municipalities — Raiganj, Domkal and Pujali —and has left the four hill municipalities to its alliance partner the Gorkha Janmukti Morcha. Domkal and Pujali have a large Muslim population and the BJP has fielded 10 Muslims in these two municipalities. "In Domkal 96 per cent voters are Muslim and seven of our 20 candidates are Muslim. In Pujali we have fielded three Muslims among our 16 candidates," says the party's minority cell president, Ali Hossain. "Our party has received huge support from the minority community of late and many were eager to contest."
Rima Khatun Bibi, 22, is one of the candidates. "I have always supported the BJP but never got a chance to contest an election. When I heard the BJP wanted to field Muslim candidates, I readily agreed," she says. "If the election is free and fair, the BJP prospects are good here," says Dilip Ghosh, Bengal BJP president. "With the Left Front and Congress fighting to survive, the BJP has a great chance to emerge second and claim the position of main Opposition in Bengal," says a BJP leader. Votes will be counted Wednesday.
Written by SANTANU CHOWDHURY
Indian Express