Over 150 rallies on Ram Navami: Swords, saffron flags, chants of Jai Shri Ram in Bengal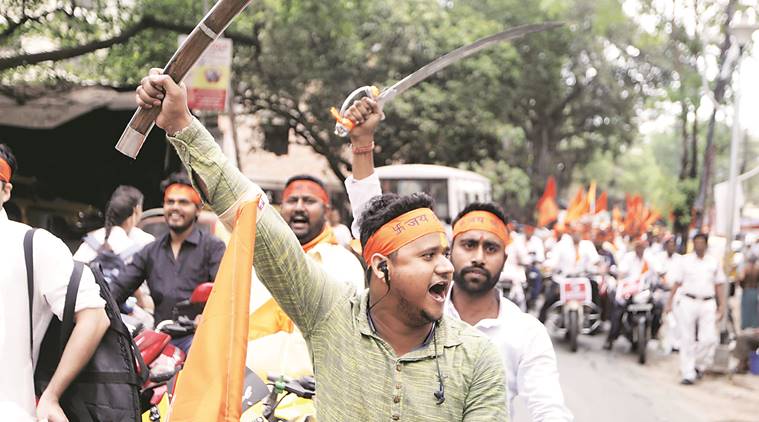 Youths in saffron clothing, wielding swords and chanting 'Jai Shri Ram', whizzed through the streets on their bikes on Wednesday as members of various outfits backed by the VHP, RSS and BJP took out over 150 rallies to celebrate Ram Navami. While BJP said the processions were aimed at "strengthening and spreading their ideological foundations for Hindutva", the Trinamool Congress (TMC) said the saffron party is attempting "to divide people on communal lines".
Many of the rallies were organised in districts that have a history of communal tension. The metropolis itself saw 22 such processions. While the police continue to remain on tenterhooks, no incidents of violence were reported. Youths were seen carrying swords, knives and other weapons. Slogans like 'Jai Bajrangbali' and 'Har Har Mahadev' rent the air. Posters pledging construction of the Ram Mandir in Ayodhya were also spotted. In Chakraberia, situated in CM Mamata Banerjee's Bhowanipore constituency, youths arrived as early as 9 am, carrying weapons.
"Ram is always with his weapons. How can there be Ram Navami without us bearing weapons?" said Aveek Chakraborty, a BJP supporter. State BJP president Dilip Ghosh too had said on Tuesday, "Lord Rama carried a bow and arrow. So how can his puja be done with empty hands? When Muharram is observed there is no talk of polarisation. When Eid or Christmas is celebrated, there is no talk of polarisation. But, when Ram Navami is celebrated, they say it will lead to polarisation. If Ram Navami does lead to polarisation, let it be. We will do it."
In Durgapur, scores of women and young girls associated with Durga Vahini took part in the celebrations and also carried weapons. Some of the largest processions were taken out in Kharagpur, Islampur and Kolkata. The decision to celebrate Ram Navami with an unprecedented fanfare comes after the RSS expressed concern over the "unabated rise in violence propagated by jehadi elements in Bengal". The RSS had claimed that the TMC government had allied with "anti-national" elements to appease Muslims.
"Fundamentalist forces have increased across Bengal. Several bordering districts are witnessing huge demographic imbalance due to infiltration," Bidyut Mukherjee, the organisational secretary of RSS, West Bengal and Andaman and Nicobar Islands, said.
Meanwhile, the TMC, while accusing the BJP, RSS and VHP of spreading communal hatred, also made attempts to counter the Ram Navami celebrations. In areas including Kharagpur, Siliguri and Asansol, TMC held their own programmes.
In Birbhum, under the leadership of district president and TMC strongman Anubrata Mondal, the party held Hanuman puja. "There are 127 Bajrangbali (other name for Hanuman) temples in Birbhum district. In each temple, we had held puja. All our legislators and other party leaders and workers took part," said Mondal.
(WITH INPUTS FROM PTI)