Amit Shah Launches Mission Bengal Today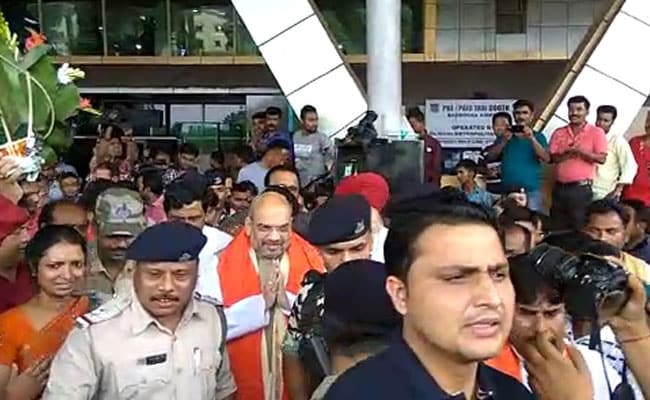 BJP chief Amit Shah has launched the BJP's Mission Bengal from the tiny village of Naxalbari.
Written by Monideepa Banerjie
As Amit Shah launches the BJP's Mission Bengal from the tiny village of Naxalbari in north Bengal, Chief Minister Mamata Banerjee will be just 170 km away and will address a public meeting. The meat of her address in Cooch Behar is expected to be reserved for another attack on the BJP.
In Naxalbari, where the Naxal movement of the 1960s had begun, BJP chief Amit Shah will go door to door in a booth-level campaign and will also lunch at a villager's home. His three-day tour of Bengal will focus on strengthening the BJP at the grass roots ahead of crucial panchayat or local body elections in the state next year and then the 2019 national election, when Prime Minister Narendra Modi will seek a second term.
Bengal's "grassroots" party, Mamata Banerjee's Trinamool Congress -- Trinamool means grassroots -- dismisses Amit Shah's visit as one of many by many leaders from outside trying to make a dent in Bengal. "They are welcome to come and visit and we hope they have a good trip," said Firhad Hakim, West Bengal's urban development minister, adding, "But the lives of people in Bengal are entwined with Mamata Banerjee's."
The BJP is buoyed by the by-election result earlier this month for the South Kanthi Assembly seat. The Trinamool won the seat as expected, but the BJP was a strong second with 31 per cent votes, pushing main opposition party the CPM to a poor third. In last year's assembly elections, the BJP had got barely nine per cent votes in South Kanthi.
"2019 is not far away. Amit Shah has set a target of 120 more MPs. He obviously wants some from West Bengal," a BJP leader said. Mr Shah will over the next 15 days travel across five states as he attempts to expand his party's footprint in regions where it has been traditionally weak. The "yatra" takes him to Odisha next and then to Telangana, Tamil Nadu and Kerala.
In Bengal, the BJP reckons, Mr Shah's efforts would have taken root by the time the 2021 assembly elections come around. The BJP aims to be in a position to win the state that year. It is a tall ambition; the BJP won had won three assembly seats in last year's election. Mamata Banerjee's party won 230, which got her a second term as Chief Minister in state ruled by the Left for three decades till 2012. So far Ms Banerjee has been challenged by no sign of an anti-incumbency sentiment.

Ms Banerjee is, however, not taking the BJP threat lightly. She has urged party workers to give no quarter to the BJP and what she calls its "communal politics."

The BJP has attacked Ms Banerjee on what it calls her "Muslim appeasement policy." That policy, said state BJP chief Dilip Ghosh, is "now back firing."
NDTV