Bengal rape case: I ask God to tell the world she was a victim, not a whore, says mother
On December 26, just over two months after she was allegedly raped by two neighbours and 18 days after one of them got bail, her daughter committed suicide.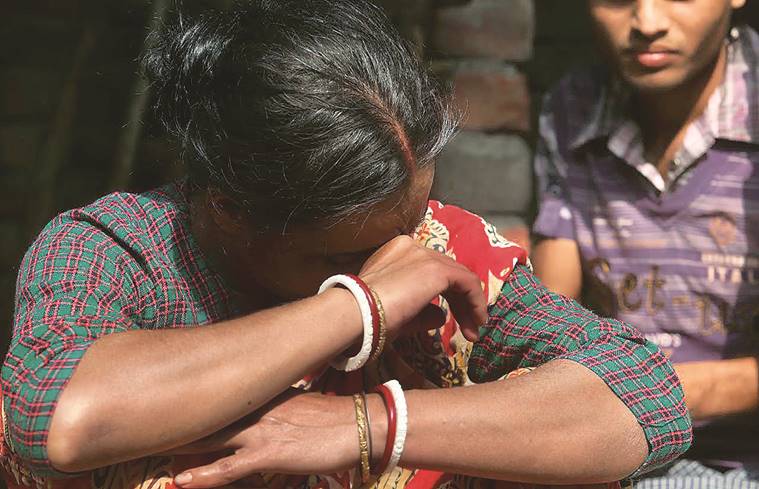 Sitting next to a traditional clay stove, she looks frail and tired. She wants the world to acknowledge that her daughter was a victim and not a "beshya (whore)", says the 48-year-old, but, as days pass on, she is losing that hope. On December 26, just over two months after she was allegedly raped by two neighbours and 18 days after one of them got bail, her daughter committed suicide.
In this village in Bishnupur Assembly constituency of West Bengal's South 24 Parganas, rarely visited by outsiders, the case has already tarnished the memory of the 22-year-old, as one often seen with "strangers". That girl who loved dressing up, who was among the village's few graduates, who helped her family out by taking tuitions, is fast receding into the background — the process hastened by the slow pace of the trial, and now her death.
October 13, marking the end of Durga Puja, had been a day of festivity, her family recalls. They live in a crumbling two-room brick house amongst their community of clay idol makers. Though they always struggled for money, the girl had managed to finish her graduation in Bengali.
The mother says the 22-year-old was shy and very responsible. She would paint the small clay idols her uncle made, and hand over the money she earned to her father, who earns Rs 6,000 per month working in a small plastic toy factory. She also gave tuitions to three children in the village, earning around Rs 500 a month.
That day, the 22-year-old wanted to see the Durga idol immersion, and left home at 6 pm for the nearby ghats with her only sibling. The 19-year-old brother, who dropped out of school after Class IX, says she was wearing new clothes for Durga Puja, a salwar-kameez. "She looked really beautiful."
When it started getting late, she told him she was leaving. "Our house is 15 minutes from the ghats. I felt she was safe," he recalls.
On the way, the girl met a friend. "We were walking toward her house when suddenly, out of the dark, two men appeared. She knew them. They seemed angry that she was with me, and said they would tell everyone in the village that she was with an unknown man. They offered to drop her home. I thought they would spread lies about her, so I left," says the friend, not wanting to be named.
Minutes later, as they went past an under-construction house, barely 50 metres from the girl's home, the two allegedly pulled her in and raped her.
Says Subhojit Pal, the owner of the house, "I heard strange sounds from the building and came out. I saw a woman crying and running away. I found Kartik Jana, drunk and naked. He threatened me into staying quiet. I saw women's slippers strewn about," he says.
The mother says the girl initially didn't tell anyone what had happened. Pal, who had been going home to home with the slippers to identify the owner, finally came to their house. "When he told us about the incident, my daughter started crying, but still didn't say anything. Then we saw the slippers and recognised them. That's when she broke down and told us," says the mother.
She named the two accused as Kartik Jana, 32, and Sudhendu Pal, 36, both carpenters who lived a couple of houses away.
The mother says that as the word about what had happened spread, the accused came to their home and threatened to "bad mouth" the girl, demanding Rs 17,000 to keep quiet. The family waited for three days before gathering the courage to file a complaint at the Bishnupur police station.
"A case was registered under Section 376(D) (gangrape). On October 17, the two were arrested. Within 52 days, a chargesheet was filed," an investigating official of the Bishnupur police station, who didn't want to be named, said.
As the accused had filed a counter-complaint, the girl's family had to pay Rs 6,000 as anticipatory bail. The mother says the girl withdrew into a shell. "People called her characterless. She stopped wearing nice clothes for fear they would judge her," she says.
She adds that the charges, the statements chipped away at her resolve. "She made me promise we would never ostracise her the way the village had done. I kept telling her we would fight together," the mother cries.
And then, a few days after the chargesheet was filed, on December 7, Pal was released on bail. The girl's family alleges that Pal began threatening them again.
December 26 began on a sad note, the mother remembers. The previous evening, her husband had got a cake for Christmas. "Both our children loved cake and my husband got one whenever we could afford it. But my daughter took just a small piece. The accused had threatened to kill my son, and she felt unwell," the mother recalls.
The next morning, the 22-year-old was late getting up. The mother suspected something was wrong. "Around 9 am, I went to wake her up. There was a smell in the room. I realised it was coming from her," the mother says. Doctors diagnosed Thaimate poisoning as the cause of death, and suspected the girl had consumed pesticide.
Police say the family never told them about the threats from the accused. "On December 26, the day she committed suicide, her family lodged a fresh complaint against Pal and a few others. Pal was arrested on December 30 while he was planning to flee to Bihar," says the official at the Bishnupur police station.
Three others, Gopal Pal, Kanhai Pal and Palash Pal, were charged with abetment of suicide on the victim's family's complaint.
Pal's house, larger than the rest in the village, is locked. His wife, a schoolteacher, has moved to her parents' house since his arrest.
Kartik Jana's wife, Sujata, says their two young sons miss him. "My husband was very drunk that day (October 13). I don't know what happened," she adds.
Jana's mother Joshna claims Pal took her son along, but later lashes out at the girl. "She trapped my son. I can never believe he raped anyone," she says.
Sanoka, the mother of Kanhai Pal, who is absconding, says, "The girl would regularly sit around here with an outsider. My sons had warned her, that is why she trapped them."
The girl's family is bitter that their case hasn't got the same attention as the 2012 Delhi gangrape. "I ask God to tell the world she was a victim, not a whore. Maybe she was not as bold as Nirbhaya, but my daughter too was a fighter," says the mother.
As she wonders what they could have done differently, the mother keeps coming around to one thought. "We had got photographs taken of her in a studio, dressed in saris, so that my husband could look for a suitable boy for her. We had received a number of marriage proposals, but none of the prospective grooms had even finished their Class X. How could I marry my graduate daughter to a Class X pass boy? Now I feel if she had been married, things could have been better. It is difficult to bring up a girl… very difficult."