Death toll rises to 54 in Indonesia earthquake - Rescue work on, many still trapped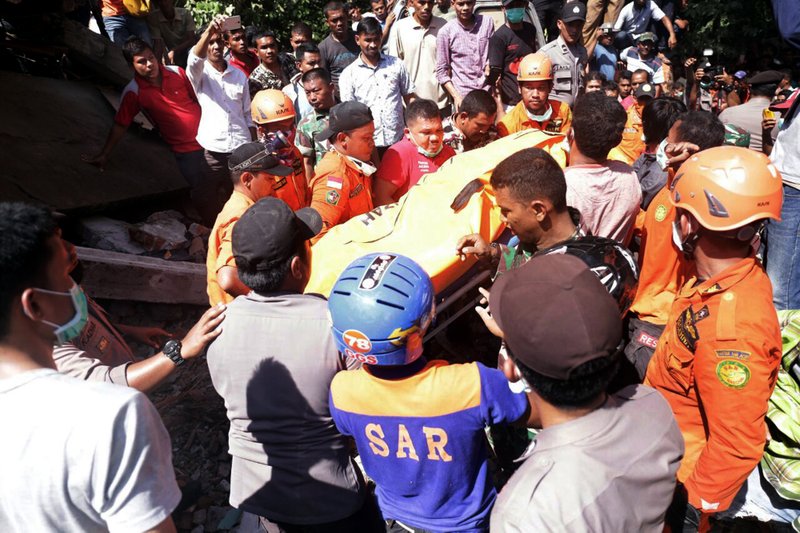 The Latest: Aceh army chief says death toll rises to 54
13 minutes ago
MEUREUDU, Indonesia (AP) — The Latest on a magnitude-6.5 earthquake in Indonesia's Aceh province (all times local):
1:05 p.m.
The army chief in Indonesia's Aceh province says 54 people have died in the quake that struck early Wednesday, more than doubling the death toll.
Maj. Gen. Tatang Sulaiman says 52 have died in Pidie Jaya, the district closest to the epicenter of the undersea quake. Another two people died in neighboring Bireuen district.
The national disaster mitigation agency says 78 people have suffered serious injuries from the magnitude 6.5 quake.
___
12:10 p.m.
A woman in the worst-hit district near the epicenter of Indonesia's earthquake says she fled with her husband and children to a nearby hill after the quake jolted the family awake early Wednesday. They stayed there for several hours until authorities reassured them there was no tsunami risk.
Seaside resident Fitri Abidin in Pidie Jaya district says: "It terrified me. I was having difficulty breathing or walking."
She says her husband grabbed hold of her and carried her out of the house as their children were crying.
She says: "We ran to a nearby hill, because our house is near a beach. We were afraid a tsunami can come at any time."
The family's house didn't collapse but the homes of some neighbors did. Abidin is traumatized because she believes three friends were buried in building collapses.
___
10:50 a.m.
The chief of the district nearest the epicenter of a shallow 6.4-magnitude earthquake that struck Indonesia's Aceh province early Wednesday says 25 people have been killed in that district alone.
Pidie Jaya district chief Aiyub Abbas also says hundreds of people in the district have been injured and dozens of buildings collapsed.
Abbas says there is an urgent need for excavation equipment to move heavy debris and emergency supplies.
____
10:40 a.m.
A strong undersea earthquake that rocked Indonesia's Aceh province early Wednesday has killed at least 20 people and collapsed buildings.
Indonesia's TVOne station, citing the acting governor of Aceh, Soedarmo, says 20 people have died.
A frantic rescue effort is underway for survivors in districts nearest the epicenter.
The U.S. Geological Survey says the shallow 6.4-magnitude earthquake that struck at 5:03 a.m. Wednesday was centered about 10 kilometers (6 miles) north off Reuleut, a town in northern Aceh, at a depth of 17 kilometers (11 miles).
There was no risk of a tsunami, according to Indonesian authorities.